Video Highlight
Maryland's Outstanding Young Engineer
Media Highlights
MIT Technology Review: Innovator Under 35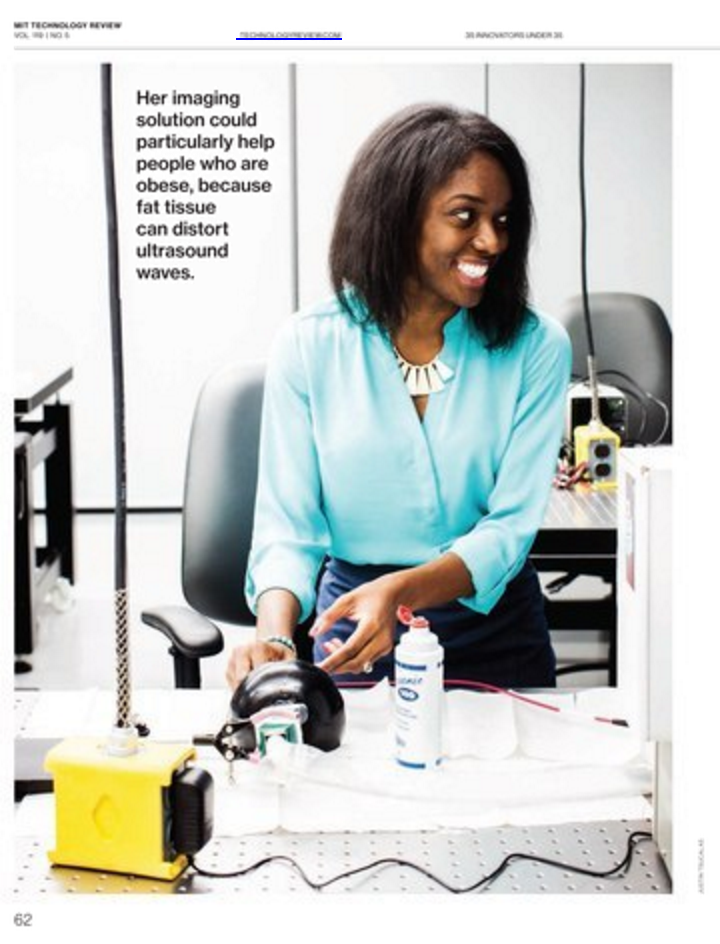 Professor Bell was named by MIT Technology Review as one of 35 Innovators Under 35 for her innovative work in the fields of biotechnology and medicine. She is recognized as an Inventor on the list.
Whiting School of Engineering Announcement
Duke Magazine: Alumni Newsmakers
University of Michigan NextProf Announcement
AI's Forthcoming Transformation of Medicine

The PULSE Lab's latest work to apply machine learning to photoacoustic signal processing was featured in the cover story of the Winter 2017 issue of the Society of Women Engineers (SWE) Magazine: AI's Forthcoming Transformation of Medicine.
Clearer Vision for Surgeons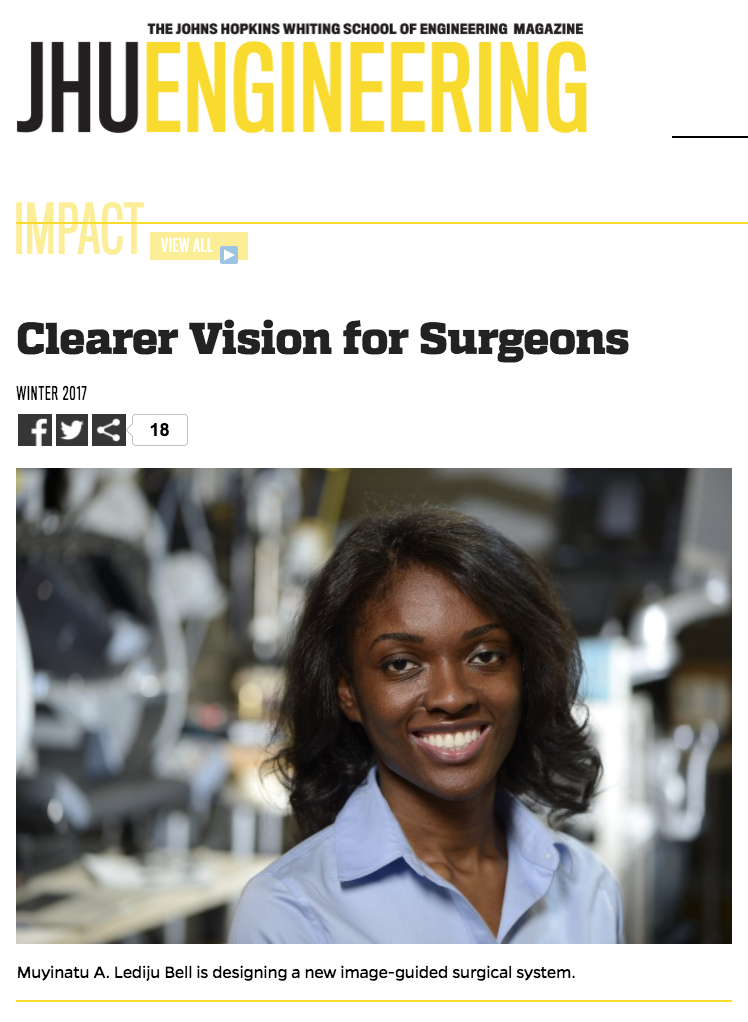 Prof. Bell is featured in the Impact section of the winter issue of the JHU Engineering magazine. The article, entitled Clearer Vision for Surgeons, focuses on our lab's latest venture to integrate photoacoustic imaging with a da Vinci surgical robot in collaboration with researchers in the Laboratory for Computational Sensing and Robotics.
SPIE Women in Optics Planner
Additional Videos
EmTech MIT: Meet the Innovator Under 35
Prof. Bell speaks at EmTech MIT. This emerging technologies event, hosted by the MIT Media Lab, provides an opportunity to discover future trends and to understand the technologies that will drive the new global economy.
Photoacoustic Imaging for Improved Surgical Tools
The PULSE Lab's work to develop specialized light delivery systems that surround surgical tools is featured in a promotional video for the SPIE Photonics West conference. The entire SPIE news release is available here.
Ultrasound Image Formation in the Deep Learning Age
Prof. Bell's keynote presentation delivered at the 2019 Medical Imaging with Deep Learning Conference in London, UK.
Interview with Prof. Bell 
This interview took place at the Deep Learning in Healthcare Summit, Boston 2017, conducted by Science Reporter Monique Brouillette. Monique set out to find out more about Prof. Bell and her thoughts on the following questions:
What motivated you to start your work in machine learning?
What inspired you to use machine learning to improve Photoacoustic-Guided Surgery?
Tell us a bit more about your current work with the PULSE lab?
Looking into the future, what developments of deep learning applications excited you the most?
What advice do you have for new entrants into the field?
Collaborations of different fields is sometimes essential for the development of another field, which fields do you think would complement machine learning & healthcare?

Additional Press Coverage