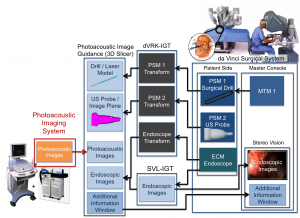 Our paper entitled Photoacoustic-based approach to surgical guidance performed with and without a da Vinci robot was accepted for publication in the Journal of Biomedical Optics (JBO) Special Section on Translational Biophotonics.
Congrats to undergraduates Neeraj Gandhi and Margaret Allard!
This work was completed in partnership with the NSF REU in Computational Sensing and Medical Robotics along with collaborators Sungmin Kim and Peter Kazanzides, and it is the first to integrate photoacoustic imaging with the da Vinci surgical robot. It was also featured on the journal homepage.